Shri Shakti Alternative Energy Ltd (SSAEL), part of the Shri Shakti Group, Hyderabad, was incubated in 2000 by IFC, Washington, under a GEF program - Photovoltaic Market Transformation Initiative (PVMTI). Since then, Innovation and Market Transformation are in the DNA of the Company. The company has developed the first 100MW Solar Park under an MoU with the Rajasthan State Government. One of the largest private sector utilities in India is developing a 50MW solar power project in this Park. SSAEL has executed projects for World Bank, ADB, UNIDO, kfW, IREDA and consulted to RERC for determination of tariff for Solar PV and CSP power projects. SSAEL won a grant award in May 2016 from the PACEsetter Fund, jointly funded by Government of India & US State Department for Remote Monitoring of Solar Pumps and Off-grid Solar Plants. PACEsetter Fund provides seed capital / grants to innovators working on breakthrough ideas, products, business models and systems to scale up off-grid clean energy development.
In 2016, SSAEL also launched its Solar O&M Services vertical in partnership with Alectris, a Global Leader in Solar Asset Care Innovation. Their award winning product, ACTIS (Asset Control Telemetry Information System), the world's first 'Solar ERP', has proven itself across US, Spain, Italy, Jordan/MENA, Europe and Japan and is currently being offered by SSAEL in India. ACTIS helps squeeze maximum performance out of solar plants with real time monitoring and diagnostics OR ACTIS provides real-time data analysis and reporting for quick fault handling and deep diagnostics. SSAEL undertakes O&M contracts with performance guarantees and periodic diagnostic studies for preventive maintenance.
.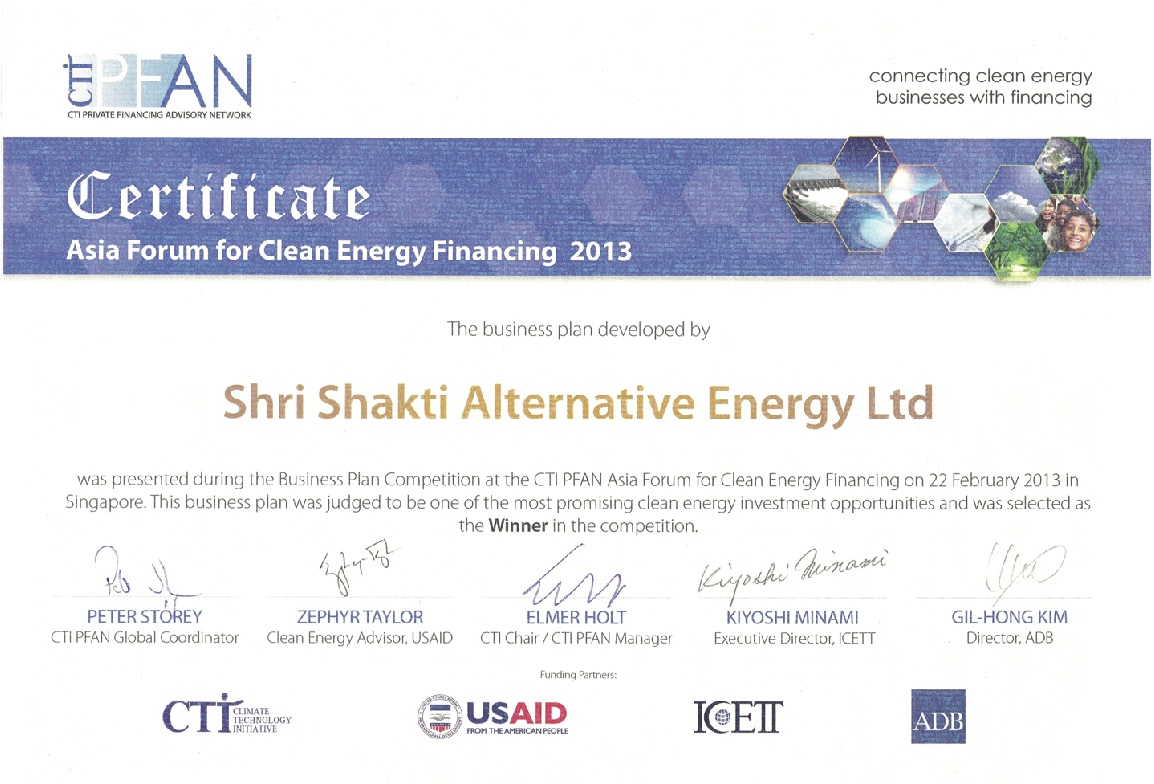 The focus of SSAEL has been Clean Energy Projects & Consulting for over a decade. We have executed projects for World Bank, UNIDO, GVEP, kfW, IREDA and were Consultants to RERC (Rajasthan Electricity Regulatory Commission) for determination of tariff for Solar PV power projects during 2009-12.
SSAEL provides Grid Connected Rooftop Solar solutions for domestic and commercial consumers through long term PPAs.
SSAEL has several R&D projects that are aimed at providing clean energy solutions for individuals and industries.
Mr. D.V. Satya Kumar, presenting his vision for sustainable rural and urban transportation, at the 13th Energy Efficiency Summit, November 2014.